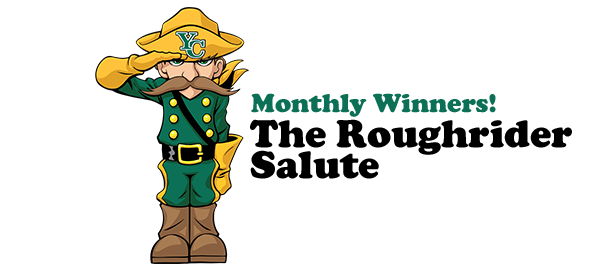 Dr. Lisa Rhine and the Executive Leadership Team
are delighted to present the recipients of The Roughrider Salute.
Congratulations, and thanks for being you! 
The Salute nomination rules and procedures -pdf | All winners SEPT 2020- JUNE 2023
---
June 2023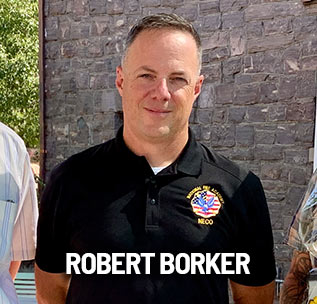 Robert Borker- Director of the Fire Science Program
Robert's attitude and commitment to the College's 4 pillars, Student Belonging, Living Wage, Adult Learner, and Delivery, are unmatched in our division. He is approachable, opened minded, and values the input of his superiors, peers, and subordinates alike. He approaches every situation with a good attitude and open mind.
His interpersonal skills proved to be valuable during a recent class that we hosted at the college for police and fire titled, "Tactical Drone operations for firefighters". which provided increased exposure to unmanned aircraft and fire With only being onboard for a couple of months, Robert approached the Aerospace Science department with the idea of offering a 3 day class to firefighters, on drone operations. With his extensive knowledge of firefighting, he was able to acquire the Prescott Fire Training Facility, 6 mahicans, two industry experts in urban operations and thermography, to help teach the three day course. Robert was also able to acquire 3 vehicles, the police training facility in Prescott, multiple instructors, 10 students, and other training aids for this one of a kind training course that has only been taught at Yavapai College.
Robert worked tirelessly on this noncredit course that provided training to 14 different fire and police stations. This specialized training will prove to save lives, decrease response times, and limit exposure to hazardous situations for our first responders. The final day of training included a "Final Battle Problem", that was the culmination of training, in a live scenario including a mass casualty exercise where the students had to work through different scenarios and communicate medical, fire, and law enforcement needs, through an on-scene commander and the dispatch center.
After the end of class, end of course critiques were handed out, and this is what students had to say about Robert and his training:
Great class and instructors! Lots of knowledge imparted on us.
Great class with a lot of great information, great instructors.
Great class!!! Good scenarios, loved the knowledge from all speakers. relatable content, well presented.
Lecture portions of class were very informative. Outdoor portion was a great real world experience.
Great class! Good info, great speakers! Would like to take an advanced course.
I enjoyed the class & got a lot out of it. From both class& connections made.
The instructors were knowledgeable and the scenarios were fun to fly.
Great class. It was great to learn about thermal imaging. I would take this class again.
If there was only one person to give this award to, Make it Robert Borker. There is truly nobody more deserving than him.
---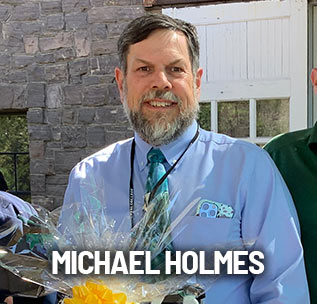 Michael Holmes- Administrative Systems Manager
Michael Holmes' started at YC in late November as our new Enterprise Application Manager. During the recruitment process, he told me he wanted to work at YC to give back and help his alma mater, which set him on his career path. This week we, unfortunately, had an instructor that could not be with his students because of an issue and could not finish the rest of the eight-week semester. Michael quickly volunteered and jumped into action. He had a handful of hours to familiarize himself with the coursework before being in front of the students for a lecture. Kudos to Michael for assisting in a time of need and embodying the Roughrider spirit.
I recently had the pleasure of interacting with Michael, and I must say that his exceptional skills as a listener and problem solver left a lasting impression. When I encountered issues with the network system, his unwavering dedication and expertise ensured a prompt resolution. Thank you.
---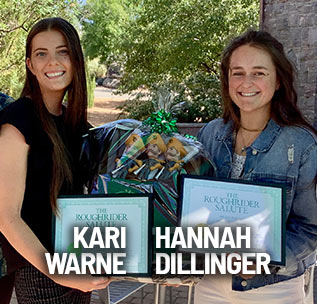 Hannah Dillinger, Manager, Housing & Residence Life & Kari Warne, Manager, Housing & Residence Life
Hannah exceeds in relationship excellence. She is kind, calm, extremely patient, and she always treats her students and colleagues with the upmost respect.
Hannah understands the mission of the institution, and she translates that into our cultural priorities and strategic goals every day. Our residents feel very supported and cared for by Hannah - I've never once received a complaint or negative feedback about how she works with others. Students and colleagues only have positive things to say about her.
Hannah has grown into a high performer, with tons of credibility and skill. To say Hannah is an asset is an understatement. The Housing department and the students who live in the halls are thriving because of her commitment to the service of others.
Hannah has shifted from someone who is developing to someone who is an integral leader in the department this year. She provides direction, guidance, support and training to our new team members Kari and Shanna. Additionally, Hannah built the 23/24 housing application campaign into Resident Outreach this year, and as a result of this combined efforts, we currently have 76 returning residents, with nearly half (34) of those returning residents coming out of our general resident population!
What I most appreciate about Kari's approach to service is her consistency. She consistently follows through with what she is doing. She never leaves a task unfinished - especially when it comes to supporting the residents. I know when I delegate something to Kari - that I will be completed, when I ask, and done at a very high level. Kari's commitment to service excellence makes our department better, the resident experience top notch, and it makes my job more manageable.
Although Kari needs little guidance, I appreciate how open she is to guidance and willing to execute the greater vision of our department. Kari brings a high level of integrity into everything she does.
In her short time in the department - Kari has successfully navigated very difficult situations, including a scary lock down and a critical suicide attempt - both events happening within the first few months of her hiring. She managed those situations with such maturity and strength!
Not only has Kari learned her role very quickly ( due to the exceptional mentorship from Hannah), but she has also taken on extra work in the absence of an occupancy specialist. Kari has taken a lot of workload off my plate - she is managing the low credit process with consistency and efficacy, and she is now cross trained in banner function and other occupancy specific tasks.
I can't put my appreciation and admiration for Kari into adequate words. She is impressive and impactful - in all areas. Our team is without question, much better because of her work, her engagement and her drive. We had our best year yet - and Kari's impact has been a huge part of that.
---