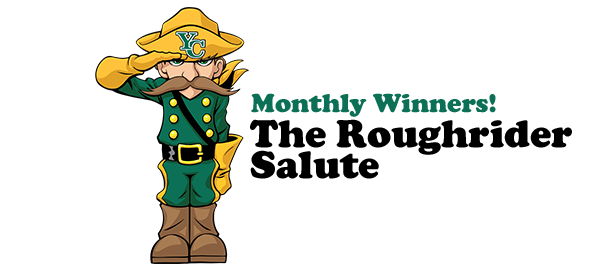 Dr. Lisa Rhine and the Executive Leadership Team
are delighted to present the recipients of The Roughrider Salute.
Congratulations, and thanks for being you! 
The Salute nomination rules and procedures -pdf | All winners SEPT 2020- JUNE 2023
---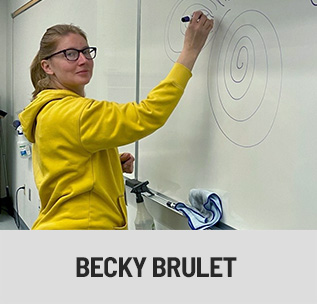 BECKY BRULET
Biology Instructor
Academic Affairs Division

Becky quietly and confidently goes about her work. Her commitment to quality instruction is evident.
She works equally well with over 20 adjuncts and faculty in the SCI department, across two campus' and other locations providing guidance and direction.
Over the summer she was instrumental in the review, credentialing and hiring of 10 new adjuncts in a variety of SCI disciplines.
Becky has a hectic schedule and is able to stay on top of all that is asked of her. She is dedicated and committed to YC and student success. I have yet to see her flustered or frustrated, she is a pleasure to work with and be around.
Becky has stepped up to the plate for the Science Department over the last 6 months to take on the role of Department Chairperson during a difficult transitional period. She serves a role model to others in her ability to remain calm, organized, and positive in her interactions with others throughout the multitude of tasks involved in credentialing and scheduling over 18 brand new adjunct faculty for areas of Biology, Chemistry, Geology, and Physics.
Becky has worked extremely hard over the summer to make sure all of the Science classes for the Summer and Fall semesters were covered in a timely manner and is dependable and conscientious in completing all assigned tasks to the best of her ability.
Becky is very responsive to inquiries from all staff, students, and colleagues and provides clear and to the point information. She is polite to all with whom she interacts with. She is able to listen attentively and respond effectively to all inquiries in a timely manner.
Becky has shown good leadership skills in completing her part of the hiring and training process for the new Science adjuncts. As instructor and Department Chair she adheres to deadlines effectively and is self motivated in getting her all of her job duties completed in a timely manner.
Becky is a kind, conscientious and hardworking person and has a no nonsense, straight to the point approach. She is an integral part of the Anatomy & Physiology faculty team and is helpful and flexible to all colleagues, students, and staff. This is a quote from one of her previous students "The instructor has great power points put together. She responds in a timely manner and does everything she can to help students succeed."
---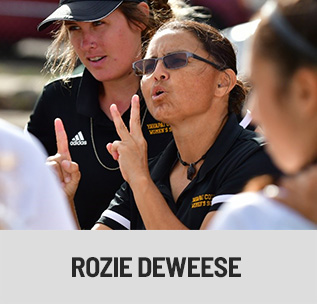 ROZIE DEWEESE
Head Coach - Women's Soccer Team
Community Relations and Student Development Division

In her first year at Yavapai College, Rozie has made an impact in the athletic department and the college. She is upbeat. She is faces adversity head on. She is committed to the cause and to the student-athletes.
As she built a program, she did it with a smile on her face and a will-do attitude.
Despite the injuries to a few of her key players and to her assistant coach, Rozie pushed forward with a never-quit attitude.
Rozie acclimated to Yavapai College in a short amount of time. She is very personable and is willing to work with others for the good of the team. With the shortage of bus drivers in the area, the soccer teams are having to be creative in their transportation needs. Rozie was/is willing to be cooperative in searching for solutions. She has had to share transportation with the other sports and has had to make concessions to do so and has done so with a willing attitude.
Despite the injuries to her team (lost two starters to season ending knee injuries and her assistant coach to a knee injury), the team qualified for the NJCAA Region I Championship Playoffs in the first year of their existence.
As shown above, Rozie is a team player and had a positive attitude in doing it. Rozie is about the good of the cause and is a great asset to Yavapai College and the athletic department.
---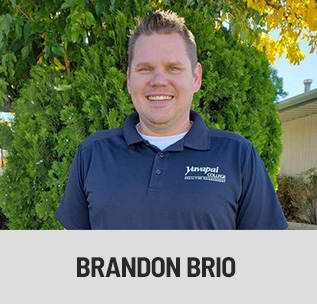 BRANDON BRIO
Facilities Trades Supervisor
Finance & Administrative Services and HR Division
Brandon is always putting others first and never thinks of himself. He gives 100% to the college both when he is here and when he is at home. He answers his phone 24/7 and never hesitates to come in any hour of the day to help ease someone else's burden.
Brandon has everyone's birthday in our department saved to his calendar and never misses an opportunity to leave a little note or gift to help brighten someone's day. No personal achievement or accolade goes unnoticed or unappreciated by Brandon. Everyone who knows Brandon feels that they are the most important person in his life.
Brandon is a working supervisor, and as such is always going a hundred different directions. I am an extrovert and do a lot of my thinking out loud. I have learned to be careful around Brandon, because he will act on any suggestion I give if it is not clear that I am just brainstorming. He is quick to act, slow to anger, and ready to help anyone who needs a hand, regardless of the task.
Brandon is 100% honest in all that he does. I never have to question his motives and I know I can trust him always. If he makes mistakes, he always owns up to them immediately, and I never question if he's dedicated to his job, the school, or his family. Few people have the integrity that Brandon does, and I am proud to call him a friend.
Brandon is always positive in all his interactions. He receives on-call calls 7 days a week and never complains. He is happy to help anyone in need and always puts others needs in front of his own.
Brandon manages a number of folks with a wide variety of personalities and manages to get the very best out of each of them. He also acts as a liaison between his employees and the many folks on campus who have requests of Facilities services. He always carries himself in a professional way and is courteous in every conversation.
In addition to handling on call duties nearly 7 days a week, Brandon also managed to complete a large list of projects that were critical for the start of the Fall semester. He and his team never complained about the load or the additional items I continued to hand them. They just quietly went about their work and managed to complete all the critical tasks before the fall term started.
Brandon is the kind of person who will always do the right thing, even if no one is watching. Integrity is doing the right thing regardless of who sees and Brandon is the perfect example of integrity. He is consistent in everything he does, and it makes it very easy to work with him as I know exactly what I will get every time I ask something of him. He is a great employee, supervisor, and friend, and very deserving of recognition.