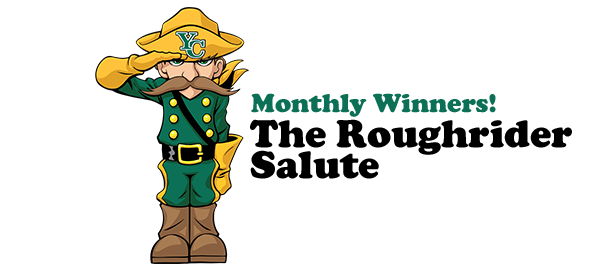 Dr. Lisa Rhine and the Executive Leadership Team
are delighted to present the recipients of The Roughrider Salute.
Congratulations, and thanks for being you! 
The Salute nomination rules and procedures -pdf | All winners SEPT 2020- JUNE 2023
---
February 2023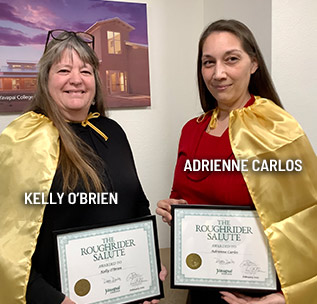 Kelly O'Brien – Financial Aid Advisor, SR
Adrienne Carlos – Manager, Financial Aid
I understand that we are only supposed to nominate one person, but under the circumstances I hope you will consider both of my nominations.
We currently have 2 open positions in our small financial aid office leaving Ray, Kelly and Adrienne. Kelly and Adrienne stepped up to fill the void as well as help train a new FA advisor during one of our busiest times of the year. Between only 2 advisors they managed to still process all new FA files, answer all the phone calls, emails, process professional judgements as well as over 50 appeals, all while training a new employee! Not only did they accomplish that, but did so with such an amazing YC attitude! I cannot thank this small but mighty financial aid team enough. They have had an incredibly hard time especially with the tragedy that happened in November with our beloved Abbie.
This team has perservered and the students have not known the behind the scenes struggles. They have handled everything with such amazing grace and I am incredibly proud to have them on my team.
---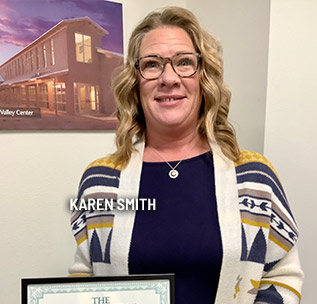 Karen Smith, Instructional Support Specialist for the Chino Valley Center
Karen Smith warrants an everlasting Roughrider Salute. She bears many hats at our smaller YC AG Center in Chino Valley. Her attitude and loyalty to YC drive her to be a point person for our campus. I am one of the many individuals who go to her regularly for assistance with challenges. It's simple to observe that many around her are demanding the same. She makes each of us feel like our dilemma is significant and it's the only task.
She doesn't get irritated easily despite our dependence. If she does get annoyed it's our blame anyways. From being a momma bear to destitute lineman pupils to guiding our Campus Associate Dean, Karen clearly has some good interpersonal talents. In candor, her ability to decipher problems and aid individuals progressing through adversity is a genuine treasure.
Karen meets her deadlines, but she mostly sets them herself! Then she returns to assisting us on our problems. Did I reveal that she purchases all the materials for the living laboratory and all of the complex programs on this college grounds! E-mail requests must include a preface saying "to work on Monday", so she doesn't do it on the holiday!
Karen is cherished in her community and in her position at YC. I'm certain that anyone who has ever been acknowledged for their achievements at this campus would be quick to say, "they couldn't do it without Karen!" Within a snapshot of a day, I may be questioning how to repair the damaged tractor, to how to develop curriculum.
Let's reward her and hold her here as long as possible! Don't share broadly, if we lose her, we will need 10 new appoints to replace her!
---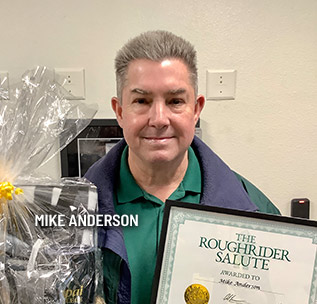 Mike Anderson- Custodian
Every experience I've had with Mike Anderson has been positive. He is very pleasant, helpful, and professional in his job and in his manner. Mike is meticulous in his work ethic and goes above and beyond in helping us in building 1. He is quick to offer solutions and a pleasure to see at the end of the day.
Mike is an exemplary employee who has set high standards for himself, and it shows!
Thanks, Mike!
---