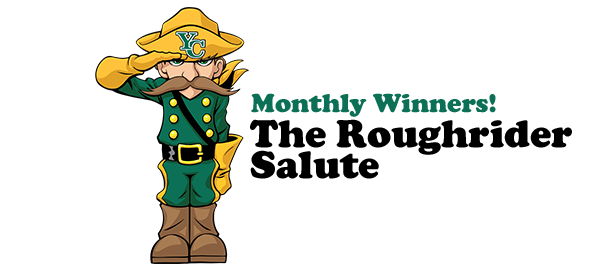 Dr. Lisa Rhine and the Executive Leadership Team
are delighted to present the recipients of The Roughrider Salute.
Congratulations, and thanks for being you! 
The Salute nomination rules and procedures -pdf | All winners SEPT 2020- APRIL 2023
---
April 2022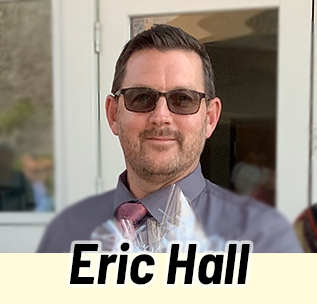 ERIC HALL
Instructor

Eric Hall has made a tremendous impact in the success of the Management Program in a very short time.
His daily energy as the Business Management Dual Enroll Instructor at Bradshaw Mountain High School and Yavapai College Management online adjunct instructor has touched 290+ students during the 2021-2022 school year. His consistent student-centered focus represents and achieves the Yavapai College's strategic goal of Belonging. He is an outstanding Yavapai College brand ambassador!
Eric is ALWAYS willing and eager to collaborate with other instructors. Even though he was busy preparing for his new Dual Enroll program launching Fall 2021, Eric spent many hours working with the Prescott High School Dual Enroll instructor building and aligning dual enroll course offerings that align with YC courses. He also jumped at the opportunity to co-author an OER course for the new Entrepreneurship Principles and Practices Certificate offering. He always brings extraordinary enthusiasm to team retreats and meetings.
Eric goes well beyond Adjunct Instructor responsibilities in ALL aspects of representing Yavapai College. Not only has he mastered the subject content of five different Yavapai College courses, he has improved the quality of the Canvas course shells by incorporating best practices in online education for student engagement and development. As his knowledge of Canvas grows, he is always excited to share new applications with peers. Eric's Student Opinion Surveys always have a stellar satisfaction rating.
Within the Business Department and Management Program when Eric Hall's name is mentioned it is ALWAYS in the context of extremely hard-working, committed, energetic, happy and fun team player. When Eric is involved, the trajectory of project stays on the path towards successful outcome. Eric Hall is a incredible asset to Yavapai College and the quest to provide opportunities for student achievement.
---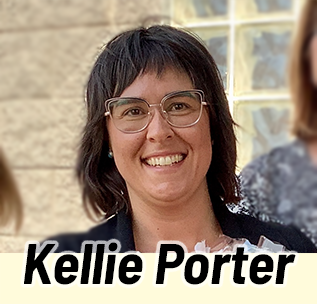 KELLIE PORTER
Manager of Residence Life
Kellie is an absolute joy to work with; she consistently shows up to work with a positive attitude and always is greeting our residents.
If anyone knows about the housing department and what it entails to support our staff and 175 residents, you would know what a crazy department we work in. But with Kellie, she embraces the chaos and always shows up with a positive, upbeat attitude. When we have a resident in distress, she goes above and beyond to make sure that resident is comfortable in the moment, always putting residents first, despite what other items are on her plate. Her attitude is inspiring!
If you didn't know Kellie was the director of the ResLife Department, you would think she was a professional counselor or therapist. She is always present for our department and to our residents, engaged with what activities are in place, REALLY listens to our residents and continually changes up things in housing when our residents voice a concern or change. Her open door policy puts our residents at ease...they love knowing they can go to "mama-manager" when they need to vent or need guidance on a campus resource.
Kellie gives 110% in our department; with only having 2.5 employees, Kellie basically wears a 100 hats, jumps into any role in order to get the job done. And what job is that...resident support! Our department runs 24/7, there is no "off time" and Kellie works 24/7...she picks up the RA phone, is on call on the weekends, sometimes has to work late shifts when there is a crisis. She always astonishes me with her willingness to help with any role or project that is on our plates. And of course, always has a smile doing it.
Kellie is one of the hardest working bosses I've ever had; again, our department runs 24/7 and we only have 2.5 employees...and she is a rockstar boss!
---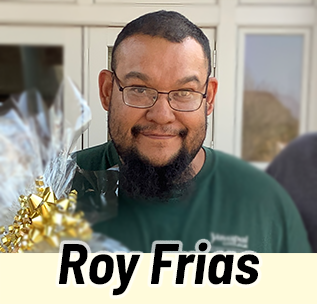 ROY FRIAS
Custodian
Roy is never content to maintain the status quo; he always takes his job as a challenge to learn new things, serve everyone better, and make the building shine and run like clockwork.
I teach in Building 4 on the Prescott campus. Roy Frias was the custodian for the first floor in Building 4 for several years before recently moving to the warehouse. He is so exceptional that I must give him a huge shout-out. I should have done so long ago.
He may officially be a member of another division, but in our minds, he was a part of our division.
Roy is guy with a great work ethic and a wonderful personality to match!
He took pride and pleasure in figuring out how to solve problems. He always asked us if we needed anything more and made sure our needs were met or exceeded. He is remarkable, and he did it all with a smile.
If a technique wasn't doing the job well enough, Roy would research a way to do it better. If he was given new equipment, he would play with it to determine how to get the best performance out of it, then train others how to use it. Floors that had been dingy now sparkled. In fact, everything sparkled!
Roy is always learning and is generous to all. He often helped other custodians when needed. He talked about his automotive classes and how he enjoyed being in the some of the same classes as his son. When I had questions about my own car, Roy gladly shared his knowledge. I appreciated our many conversations.
I am grateful for his exceptional service and his great personality. He is an incredible asset to YC.