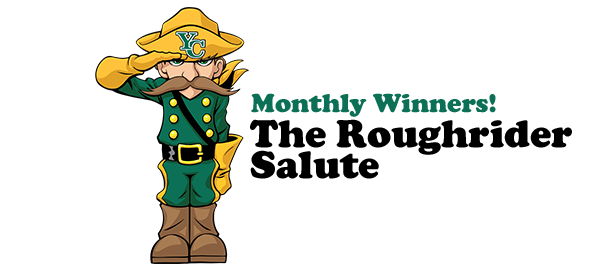 Dr. Lisa Rhine and the Executive Leadership Team
are delighted to present the recipients of The Roughrider Salute.
Congratulations, and thanks for being you! 
The Salute nomination rules and procedures -pdf | All winners SEPT 2020- JUNE 2023
---
January 2022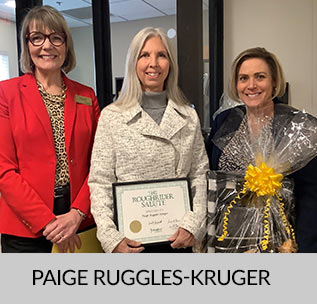 PAIGE RUGGLES-KRUGER
Academic Affairs Division

Paige is one of those unique employees that can anticipate the needs of others.
When NSG's Instructional Support Specialist resigned last month, Paige volunteered to step in and assist with several needs. Paige is currently assisting the EMS organize and collate years of student records due to impending state audit. She is conscientious about adjuncts, students, and faculty within the School of Science and Engineering and reaches out to them regularly to see what they need to be successful.
She is frequently asked to contact students about a change in the class schedule. This can be unsettling for students and she is able to ally their concerns and provides alternatives. They soon feel very comfortable and are reassured by her. We have recently added many new adjuncts and she also makes them feel very comfortable and quickly establishes a rapport with each of them. With her many years at Yavapai College she has developed friendships and associations with other employees outside of her department, which contributes to her efficiency in dealing with a variety of issues, she knows who to go to in resolving them.
Paige is my right hand. She is a pleasure to work with and after nearly 10 years, she can anticipate what is needed. She is detail oriented, thoughtful, and is always thinking of how to meet other's needs. On her own initiative, she recently organized a training with TELS and some of our Faculty that addressed an issue we were experiencing.
Paige has the ability of putting herself in other people's shoes, anticipating what they may be feeling, thinking or experiencing and takes action to help those individuals feel comfortable, reassured and supported. She frequently uses her own money to purchase a card, cake or other thoughtful item to celebrate someone's birthday, department gathering or to celebrate and event. It is people like Paige that bring joy and fulfillment in working at Yavapai College.
---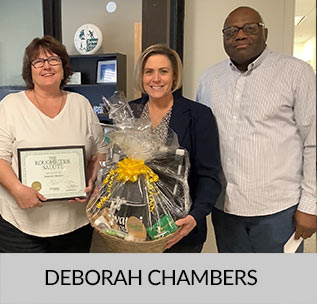 DEBORAH CHAMBERS
Coordinator for Department of Student Affairs
Community Relations and Student Development Division

Deb has the absolute best attitude when it comes to serving students and staff within the division.
She always makes time to help anyone within the division. She has taken on the responsibility of rebuilding the Food Pantry for YC students and has spent an incredible amount of time researching college food pantries and how to build on what we already had at YC. Her commitment to helping our students who face challenges and food insecurity is a deeply held passion. She is available for these students whenever they have the time to come in. She has adjusted the Pantry to where students can shop for their own food from pre-established categories. This gives students the dignity independence of being able to choose the food that best fits their needs.
Deb is the person that everyone goes to for support. Whether it's to talk through an issue or just be able to vent frustrations. She is kind and understanding and never comes from a judgemental place. She always seems to be able to sense when a little humor is needed! Her mass emails to the division puts a smile on everyone's face!
Deb produces a high level of work in a timely and efficient manner and takes on additional tasks whenever asked. She took on a pretty big challenge of managing the Food Pantry for our students.
Deb is patient, kind, caring, works with the highest level of integrity, and treats everyone with respect. This is evident in how she interacts with our students that come in to get items from the Food Pantry. She takes such care to make sure they leave feeling supported and that she is there to help them through these dark times that some of our students have to walk through. 
---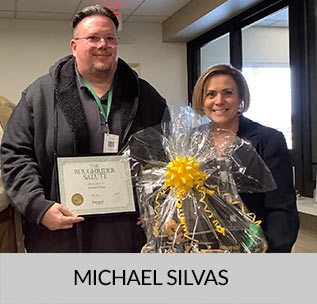 MICHAEL SILVAS
PTSS Technician
Finance & Administrative Services and HR Division
Michael has gone above and beyond the call of duty a number of times for me.
When my laptop died in the middle of a mass high school registration day, he prioritized the need and got me back on the road an hour later so that students' needs were met.
Michael is very thoughtful. He makes a point to be sure that every need is met, even adding items, such as computer mice, which most of don't realize we need until we are in the middle of a work storm. He even shared a handful on his own eyeglass cleaners.
Michael is great at what he does! He takes the time to be thorough and detailed, fixing immediate needs and predicting future issues and needs. He is a great problem solver and does not stop until he has solutions to complex IT issues.
Michael is polite and professional. He puts the interests of students and staff members who help students at the forefront of his practice. It's always a pleasure to work with Michael.