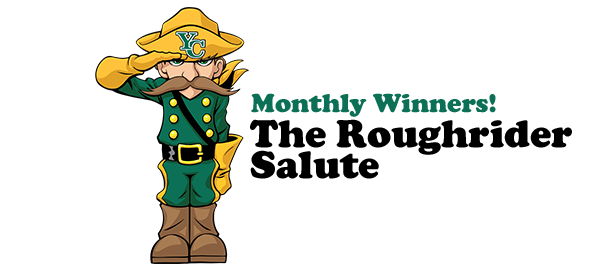 Dr. Lisa Rhine and the Executive Leadership Team
are delighted to present the recipients of The Roughrider Salute.
Congratulations, and thanks for being you! 
The Salute nomination rules and procedures -pdf | All winners SEPT 2020- JUNE 2023
---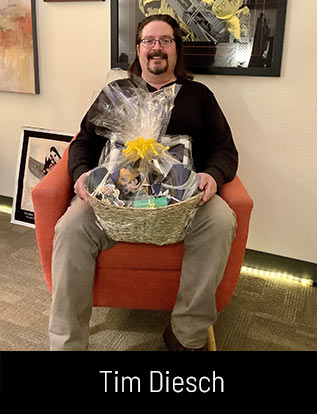 TIM DIESCH
Senior Public Information Officer
Community Relations and Student Development Division

Tim has done an incredible job promoting the College, many times behind the scenes. He places all of our advertising for the marketing department, which helped the College see an enrollment growth this fall.
He consistently works with various internal departments as well as outside agencies to help YC get the best marketing experience for all of its programs, events, and activities.
He goes above and beyond to support the Division of Community Relations and Student Development, as well as the rest of the marketing team.
Tim takes on large marketing projects where he works directly with internal departments and external vendors/media outlets. Recently, he has been asked to coordinate a large video project for the YC Foundation, where he is working with Foundation staff, an external videographer, and numerous donors. He is also working through a large 100 page magazine with an outside media outlet, where he will coordinate content, logistics, and budget info. He also is working closely with YC purchasing to manage a massive photography/videography project for the entire college.
He does all of these and much more with a can-do attitude and always makes others smile and feel welcome.
His performance is always top-notch quality and efficient. Many times, Tim completes a request before I even get a chance to think about it a second time. He understands his job duties and the industry, allowing him to be highly efficient on each and every project.
Tim makes everyone smile. He can strike up a conversation with anyone and is a joy to work with on a daily basis.
There are those who claim to have 15 years of marketing experience, but Tim's work is done with elegant, surgical precision that speaks for itself.
---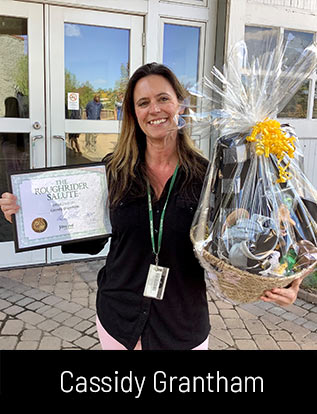 CASSIDY GRANTHAM
Accounting Manager
Finance & Administrative Services and Human Resources Division
Cassidy is a very dedicated employee who loves YC and is an alum! She is incrediby easy to work with, courteous, professional and I have yet to see her in a bad mood. She is also mentoring our cashier which has really made her feel very valued! I have appreciated Cassidy so much!
I have been in awe of Cassidy. Our bursar retired right before Spring Break, and we have not yet been able to fill the position. This means that Cassidy has been doing the majority of the work for 2 positions for quite some time and has not one time complained! As a matter of fact, our cashier was out on medical leave for 2 weeks which Cassidy had to fill in for that as a front line worker and had an amazing attitude. She is never without a smile or a laugh. Is never frustrated with questions, which believe me, there have been many! Many of the one class free questions have been directed to her area. How has she done it all?!
In Cassidy's position, she needs to work with all departments. The person that was in her position before her, folks were scared of, me included! We were afraid to ask questions which can often lead to mistakes and more work. Cassidy came into this position with an open attitude and wanting to make things better. Like I said before, she never gets frustrated with staff questions which has made our lives so much nicer!
Cassidy has been working the majority of 2 jobs for the past 6 months. Even with this, she is quick to respond. As the accounting manager, you don't typically work the front lines, but because of the shortage, she does this every day and is great with the students! (Everyone should work the front lines here and there, as it gives good perspective of student issues) She is also in charge of our refund appeal committee which gets quite a few interactions during the first few weeks of school.
She was sick last week, and was working remotely. We had a class issue where we needed to cut checks to several students in a Biology class so they could purchase their books. Cassidy, while sick, made this happen for us in record time in order to help the students.
---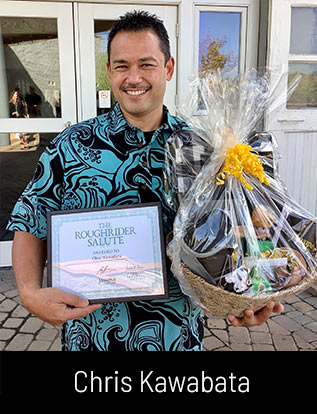 CHRIS KAWABATA
ABE/GED Specialist
Academic Affairs Division
Chris started in our program during COVID, did an amazing job of getting up to speed on all our operations, and began teaching online almost immediately. He also went above and beyond in understanding our pedagogy and the scope of our mission as GED teachers, naturally recognizing and responding to our students' individual needs with professionalism, thoughtfulness and compassion.
Furthermore, from day 1, he began to develop fresh ideas for curriculum to support our students, prompting me to quickly offer him the position as our curriculum coordinator. He regularly offers his time to staff for help with instructional issues. Now back on campus, he can be relied on to provide advice, clean closets, move furniture, fill in as testing support, and help in many other capacities. He is a team player in every sense, and a great teacher and role model to students. We are lucky to have him.
It is part of the fabric of Chris's being to be helpful. When Chris meets with staff or students, he listens first. He asks excellent, pointed questions and knows when to offer advice and when to hold back. He is a natural helper, noticing when a person may require support, personally or professionally, and offering his time without looking at his watch. He is easy to talk to, genuinely open, and kind.
Chris is an early bird, arriving at work before many of us. He sets his own deadlines and daily goals and may be the last to leave in order to complete them. Without my asking, he took on the job of integrating all three sets of our standards and is now our resident expert. He daily seeks ways to improve his performance as an instructor, and also for ways to be more present for his students. As our curriculum coordinator he regularly finds time to meet with staff to train them in curriculum and assessment, for brainstorming and planning, or to provide lesson ideas or improve classroom management.
Chris is a professional. He holds himself to a high standard in all aspects of his life and is a role model to staff as well as students. I can rely on him to give me clear and honest feedback about program improvement. He is also a really nice guy. He's funny and fun to be around, and a lively conversationalist. He loves to do in-depth research, and always surprises me with his depth of knowledge on even the most obscure topics. He transfers this enthusiasm for learning to his classroom as well, relating exciting scientific discoveries or demonstrating interesting patterns in mathematics. I also discovered further talents after a trip to CTEC, where he seemed familiar with every tool, machine and electronic device, reminding me that he previously taught middle school and has won prizes with his students in robotics.