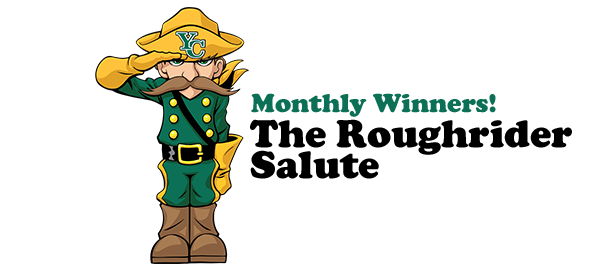 Dr. Lisa Rhine and the Executive Leadership Team
are delighted to present the recipients of The Roughrider Salute.
Congratulations, and thanks for being you! 
The Salute nomination rules and procedures -pdf | All winners SEPT 2020- JUNE 2023
---
MATT MINTZMYER
Director of Aerospace Science/3D Printing and Manufacturing
Academic Affairs Division

Director Mintzmeyer has displayed a positive attitude while working through some very difficult issues with 3D house printing this semester.
. He has spent 100's of hours outside of the workday getting the machines to function properly, while also battling COVID. Without this commitment, we would not be able to move forward with 3D house printing due to the complexity of the operation.
Director Mintzmeyer has been successful at putting together a good team to keep going with the ongoing learning curve involved in 3D house printing. His easy going and "can do" attitude have been very noticeable. He has communicated well with the 3D team, and has them coming in to run test prints on a regular basis. As we inch closer to building a house, those skills will continue to be needed, and he will have to keep that team motivated in his role as Director.
Matt has spent many a late night working on improvements to the 3D printing lab at CTEC, as well as mastering the 3D house printing machine as part of the construction program. He has reached out to industry concerning directions we need to go in 3D printing, and has gleaned some good ideas that he has helped incorporate into the classroom. At a time when frustrations have been high, Matt has continued to work through problems pertaining to 3D house printing. Matt also has worked hard on revamping the Aviation program in order for us to start recruiting veterans again, and to grow the program. This required seeking a potential partner to lease the college aircraft so that the private pilot license could be issued by YC. If all goes well, we should see an increase of 40-50 students next year in the flight portion of aviation. Finally, Matt put together a team that flew drones in the Verde Valley to find a victim who had been swept away during flooding. The drones located the victim, giving the family peace and closure to a tragic event.
Matt believes in the chain of command, and always works to take Yavapai College forward. As his supervisor, if I give him a directive, I know that it will be done to the best of his ability. As previously mentioned, he has a "can do" attitude which makes my job as a Dean easier. I can provide minimal directives and know that he will be off and running with strong results. A true asset to the college, Matt will play a big role in taking the college forward with his many skillsets.
---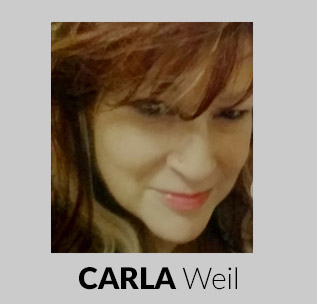 CARLA WEIL
Community Relations and Student Development Division

Carla brings a positive attitude to work everyday! The care she provides our students is second-to-none.
Her commitment never waivers to making sure that every student and staff member who crosses her path feels important. Carla does whatever it takes to meet the needs of our students, even if it means going out of her way to stay late or spend additional time finding answers and solutions, and she does it with a smile, a laugh, and a outstanding attitude!
Carla greets and treats every student and employee like they are number one. The people who are graced with her presence walk away feeling like they are the center of the universe. When students enter the building they are greeted with the friendliest of personalities, and I hear them constantly sharing their personal stories with her. Our students clearly view Carla as someone they can trust and someone who makes them feel uniquely special.
Carla wears many hats. She is a frontline worker and fields all questions imaginable. She usually knows the answer but, if she doesn't, she does whatever it takes. Carla is also very careful to make sure that student privacy is maintained. When disconcerted students cross her path, they inevitably walk away satisfied and placated.
Carla's personality is contagious! Her positive energy and charisma brighten the atmosphere and energize those around her. I believe that she single handedly draws students to Yavapai College because of the high level of customer care and enthusiasm that she bestows upon them.
---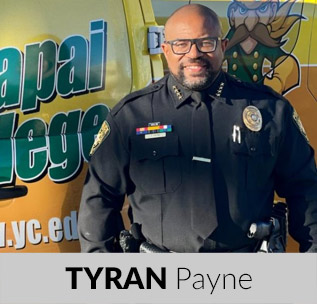 TYRAN PAYNE
Chief of Police
Finance & Administrative Services and HR Division
Chief Payne is a natural leader. He always encourages his team to strive for excellence and leads by example. He is a master of feedback and has cultivated a culture of growth for our Campus Safety department.
He comes into work each day with a smile and a good sense of humor, instantly creating positive morale. Chief Payne is extremely active in the Yavapai College community and over the past few years he's been with this department, has drastically helped promote community-oriented policing within our college community, and beyond. He checks in with his team members every day, and actively ensures his team's mental and physical health are doing well. His commitment to the job goes beyond expectations.
Chief Payne is a fantastic communicator. His door is always open for those who have questions or concerns, and he doesn't shy away from feedback. He is a mentor to a wide range of individuals, everywhere from fellow police officers, staff and faculty at the college, as well as a mentor to the youth within our juvenile justice system. His impact on these individuals lives in powerful. He hosts formal "check-ins" within our department members multiple times a year, just to make sure we are doing well as individuals. He has created a team environment where nobody feels like they are stepping into the unknown without guidance. Chief has our back.
As a Chief, it is not their responsibility to come in early, stay late, and come into work on days off to deal with calls. However, Chief Payne has come into work on his days off more times than I recall to assist his team when they need help. Even while on vacation, Chief has spent hours assisting his team. I remember a specific instance where I was interacting with a community member who was having a hard time and I didn't know how to help this person; so, I called Chief Payne about 9:00pm on a Saturday night. Chief answered his phone while he was spending time with his family, and he talked to this individual for approximately thirty minutes. He explained how our department was going to help them, and set up a meeting to talk with this person, one-on-one, first thing on Monday morning. This is just one example of many instances that myself, along with other members of YCCS have of Chief Payne putting other's needs before himself and going above and beyond in his role as Chief of Police.
He is hardworking, integrous, selfless, and constantly striving to become the best leader for our team, and for our community. He is always creating new ideas to implement into our department that create a culture of positivity, preparedness, and growth. Chief Payne has never backed down from a challenge, and always puts our community's needs above his own. These are the qualities of a true leader and precisely why I chose to nominate him for this award.